Sports & Entertainment Law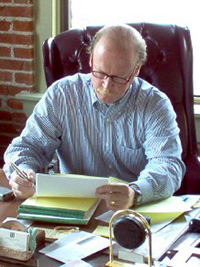 Professional athletes and entertainers often have legal needs with their contracts, charitable foundations, small businesses, personal matters and other endeavors. The Regan Law Firm provides such representation. Mr. Regan represents many athletes in the professional ranks.
He has represented professional athletes and entertainers in such matters since 1987. He Co-founded Derrick Thomas' Third and Long Foundation which has been given the NFL Man of the Year award and many local and national awards by many, including President George Bush and the Governor of the State of Missouri.
He has helped found successful businesses for athletes and entertainers. Mr. Regan has also negotiated contracts for local television news reporters and anchors for Kansas City's leading television stations, and has served as personal counsel for many premier athletes in professional, college and high school sports.
Mr. Regan has represented professional athletes at the highest level of professional sports such as Football, Baseball, Boxing, Soccer, Basketball, and Hockey.
Not one of his clients has ever missed a game due to Court imposed sanctions. He has also successfully tried numerous NFL disciplinary arbitration cases in favor of NFL players.