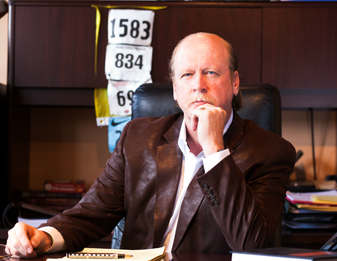 Kevin E. J. Regan, the founder of the Regan Law Firm, LLC has been inducted as a fellow of the American College of Trial Lawyers, an honor bestowed on fewer than 1% of lawyers in the U.S. and Canada. The College is considered among the country's most prestigious legal organizations.
He also became the first member of his law school class to argue a case before the Kansas Supreme Court. The case revolved around the same individual whom Mr. Regan had successfully prosecuted in Holton, Kansas, as an intern for County Attorney, Dick Lake.
This case was tried during the summer preceding Mr. Regan's third year in law school.
At the time, he was believed to have been the first law student in the country to successfully first chair a murder case while still in law school. Preparation for the trial of the case included extensive research into the areas of ballistics, blood spatter evidence, Miranda issues, blood alcohol content analysis, shooting distance forensics and tool mark examination. The case was tried against the town's most experienced defense attorney, and the jury found the defendant guilty of second degree murder.
Upon graduation from Washburn University's Law School (J.D. 1981), Mr. Regan joined the Johnson County, Kansas District Attorney's Office. The District Attorney at that time was Dennis Moore, who went on to serve in the United States House of Representatives.
During this time with the District Attorney, Kevin tried many felony jury trials, winning them all.
Kevin was also appointed as a special Federal prosecutor in a murder case for the United States Government while with the District Attorney.
In 1982, Mr. Regan crossed the state line, joining the Jackson County, Missouri Prosecutor's Office. Working for five years with Jackson County Prosecutor Albert Riederer, Kevin served as trial team leader and senior trial attorney. He tried many homicides, including capital murder. He also founded the vertical prosecution unit, which prosecuted every drunk driving injury and fatality case in Jackson County. Mr. Regan personally handled each case for five years. He has also served as a special prosecutor on several major cases for the Missouri Attorney General.
Kevin E.J. Regan has long been recognized as one of Kansas City's top criminal defense attorneys. He has for several decades provided excellent service to clients seeking a preeminent criminal defense lawyer in Kansas and Missouri State, and Federal Courts.
Mr. Regan has won many homicide cases involving self defense and use of force by innocent citizens. He is a strong supporter of the Second Amendment and citizens' right to bear arms. He has been published nationally on this subject.
He has assisted many clients in achievingpositive results in Kansas City DUI cases, and helped many individuals prevail over problems with alcohol and drug addiction.
The firm has won major awards in civil courts as well for large firm clients, small business owners and individuals needing an accomplished trial attorney.
Mr. Regan is a former assistant district attorney in Johnson County Kansas, as well as a former special federal prosecutor, when he prosecuted a murder case for the U.S. Government.
He is a former assistant state prosecutor for Jackson County, Missouri, where he handled many major capital homicide cases, and all of the vehicular homicides for five years.
He has served as a special prosecutor for the Missouri Attorney General's Office, handling major cases throughout the state.
He has now been in private practice for over 25 years.
He founded the criminal law department as a named partner of a well respected firm for thirteen years. He founded the Regan Law Firm in 1999 and is committed to providing big firm legal services in a small firm atmosphere.
He believes a good lawyer needs to be an innovator and experienced problem solver. Mr. Regan has tried over 150 jury trials in civil and criminal courts in numerous state and federal courts throughout the United States. His first victory came while a senior in law school when he tried and won a second-degree murder case for the prosecution in Holton, Kansas. This was believed to be the first ever achievement by a law student at the time.
He was awarded the 36th Annual Lon O. Hocker Memorial Trial Lawyer Award by the Missouri Bar Foundation in 1991, in recognition of outstanding achievement in trial practice.
Mr. Regan has successfully prosecuted, as well as defended, numerous major criminal cases in state and federal courts. He has litigated numerous workers' compensation and civil cases, including a 1.9 million dollar wrongful death settlement. He continues to work as general counsel for several local and national businesses. Two of the last criminal cases handled in Federal Court resulted in acquittals.
He has also been named in the Top 50 Super Lawyers in Kansas and Missouri, and honored by the Kansas City Business Journal as one of the Best of the Bar.
In 2012, Mr. Regan was awarded "Lawyer of the Year" by Best Lawyers in America in the area of Criminal Defense. Only a single lawyer in each practice area and designated metropolitan area is honored as the "Lawyer of the Year," making this accolade particularly significant. Mr. Regan enjoys the premier rating in all major peer review publications for competence and integrity.
He is past chairman of the Kansas City, Missouri Bar Association Criminal Law Committee. He is past chairman of the advisory board of the Heartland Chapter of Mothers Against Drunk Driving. He is a former co-director of training, education and continuing legal education for the Missouri Association of Prosecuting Attorneys and was an annual speaker at the Missouri Association of Prosecuting Attorneys Trial School. He is a guest speaker at UMKC Law School in Criminal Trial Techniques.
Mr. Regan is licensed to practice in all state and federal trial and appellate courts in Kansas and Missouri and is admitted, as well, to the bar of the United States Supreme Court. He was a top rated adjunct professor of Trial Advocacy at Washburn University Law School. He has helped mentor many outstanding trial lawyers over the years.
Mr. Regan is a frequent guest lecturer at the UMKC and University of Missouri Law Schools in trial advocacy classes.
He participates in public service CLEs put on by the American College of Trial Lawyer members for local attorneys and law students.
Mr. Regan graduated from Washburn University School of Law in 1981. He has been a highly rated adjunct professor teaching advanced trial advocacy at that institution. He attended Emporia State University and graduated in 1976 with honors. He was a walk-on three-year varsity football letterman and founder and captain of the University rugby team, as well as coach of the boxing club. He competes annually in triathlons. He has been a youth football coach and enjoys woodworking and playing the Great Highland Bagpipes. He co-founded a local youth lacrosse program, The Brookside Badgers, which has flourished and grown over the years to be Kansas City's largest.
Kevin has volunteered as a piper at military funerals to provide musical diversion from the protests of the infamous Westboro Baptist Church, who attempt to disrupt these services. He was asked to bagpipe as a solo performer at Kansas City, Missouri Mayor Sly James' inauguration ceremony in 2011.
Piping highlights include playing with the opening act for Rod Stewart, piping for local Bishop Boland at his 50th year anniversary as a priest, playing with the Irish rock group, The Elders, at Notre Dame University and participating at the funeral services for Margaret Truman Daniel at the Truman Presidential Library. Kevin's band played to a sold-out crowd at the Kauffman Center for the Performing in March, 2015 with the legendary Irish band, The Chieftains.
Adventures of 2015 included summiting Mt. Washington, the world's windiest peak, and helming a 52 foot catamaran in the high seas of the Virgin Islands.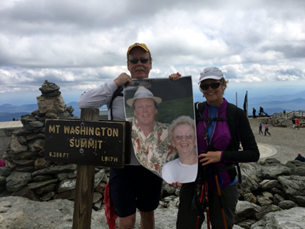 This summer, Mr. Regan had the pleasure of sailing on Dennis Conner's America's Cup Racing Sailboat "Stars and Stripes".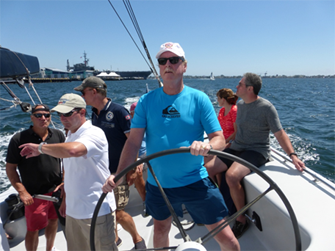 Mr. Regan, once again in 2016, contributed to the University of Missouri Law School Intercession Intensive Trial Advocacy program as a guest instructor. He was also a guest lecturer at UMKC Law School, in the Criminal Trial Techniques Class.
This year, he also founded a thirteen month intensive trial advocacy program for the Jackson County Prosecutor's Office, which has been dubbed "The Masters Program".
In April of 2017, Mr. Regan was honored to be a presenter at the first ever Wyandotte County Bar Association Bench-Bar Trial Advocacy Seminar, teaching Criminal Trial Advocacy.